Traditional Silver Braces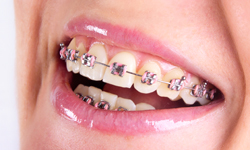 Traditional metal braces are the most common type of braces and are more comfortable today than ever before. Made of high-grade stainless steel, metal braces straighten your teeth using metal brackets and archwires. With metal braces, you have the option of adding colored elastics (rubber bands) for a more unique and colorful smile.
Self-Ligating Braces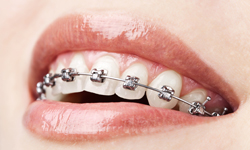 Self-ligating braces are made from the same materials as traditional braces. However, self-ligating braces do not require the use of colors, meaning fewer appointments and less friction being placed on the tooth. They are the same size as metal braces, but use a specialized clip to help the archwire guide teeth into place. The clip helps reduce the amount of pressure being placed on the tooth, and requires fewer adjustments because there are no elastics to replace. Dr. Fowler uses Empower Self-ligating brackets from American Orthodontics.
Clear (Ceramic) Braces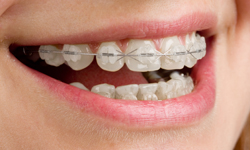 Ceramic braces are made of clear materials and are therefore less visible on your teeth than metal braces. For this reason, ceramic braces are used mainly on older teenagers and adult patients who have cosmetic concerns. While they are visually less prominent, they do require more attention to oral hygiene as ceramic braces are larger and are more brittle than their metal counterparts. For these reasons, ceramic braces tend to be used more on upper front teeth than on lower teeth.
Clear Aligners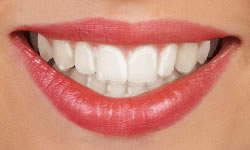 Clear aligners are a series of invisible, removable, and comfortable acrylic trays that straighten your teeth like braces. Not only are the aligners invisible, they are removable, so you can eat and drink what you want while in treatment, plus brushing and flossing are less of a hassle. The aligners are comfortable and have no metal to cause mouth abrasions during treatment.
Radiance™ Orthodontic Brackets and Braces - your "clear" choice for comfortable, confident smiles, even while wearing braces!
"Radiance is Confidence!"
Are you worried about getting braces and having to deal with a mouth full of metal wires and brackets that everybody will notice when you smile? Radiance orthodontic brackets are clear, so while everybody notices your beautiful, new smile, your braces will be your little secret! Our practice offers Radiance brackets to patients of all ages, giving them a clearly comfortable alternative to traditional metal braces.
What are Radiance Brackets?
Radiance brackets are specially cut from a single crystal of pure sapphire. Once the cutting is complete, the brackets are heat polished until they are smooth, clear, and ready to wear!
Radiance brackets are:
Invisible - unlike any other brackets on the market, Radiance brackets are invisible! You'll feel confident smiling even during your orthodontic treatment.
Comfortable - Radiance brackets are cut from pure crystal sapphire, and then heat polished until they are completely smooth. The brackets are so smooth, you won't need to worry about the edges irritating your mouth like traditional braces can.
Stain-Free - Your Radiance brackets are stain-free! The brackets' highly polished surface works as a barrier to protect your teeth from staining and discoloration throughout your entire treatment, so that your smile stays bright from start to finish.
Strong and Effective - Radiance brackets are designed to be the strongest brackets available. Being cut from crystal and treated with heat until smooth ensures a solid bracket that is remarkably strong, and less likely to crack or break.
Why should I choose Radiance brackets for my orthodontic treatment?
There are many reasons why you should consider Radiance brackets for your orthodontic braces treatment.
You want a straighter, healthier smile, but without all the noticeable wires and brackets of traditional metal braces. Radiance brackets give our patients the smile they've always wanted with clear, polished brackets that are virtually invisible!
Radiance brackets provide the highest level of comfort. Traditional metal braces can sometimes cause minor discomfort to the patient, but Radiance brackets are extremely smooth, making them more comfortable and less likely to cause irritation.
Radiance is confidence! You don't have to wait until your treatment is complete to share your beautiful smile! With Radiance brackets, you can smile with confidence throughout your entire treatment.
Please contact our practice to schedule a consultation and to learn more about orthodontic treatment with Radiance braces.